Sound effects are a crucial part of most videos. Whether you are a YouTube vlogger or a vine creator, the right sound effects placed at the right moment in your video can make it more engaging for the users and can convey emotions better.
But, many creators may agree that finding the right type of music and sound effects can be challenging.
This blog makes this challenge a little easier through this list of seven reliable websites offering high-quality, royalty-free sound effects for YouTube videos.
Table of Contents
● Licensing Options for Sound Effects
● 7 Reliable Websites to Find Royalty Free Sound Effects (Download and Use in YouTube Videos)
● Final Words
So, let's tune in.
Licensing Options for Sound Effects
Licensing disputes concerning content on the internet can often lead to monetary as well as reputational losses. Before editing your video with sounds from a random source, it's crucial to understand their legal contracts and licenses and how they may affect your channel.
Before getting to the list of royalty-free websites, let us try to understand the types of licenses a sound effect or track can have.
Music Without License
This type of music is free for anyone to use for their preferred purpose. The tracks with no license are said to be under the "public domain,' and incorporating them into your YouTube videos is free.
Creators may find it attractive and want to stick to using only public-domain music. However, it isn't that simple.
First, this is the type of music that anyone on the planet can use, which means it may lack uniqueness. Secondly, this type of music is in limited quantities and is rarely suitable for YouTube content.
Only a limited number of public-domain sound effects and tracks are available for creators. Most of those were either published before 1923 or are labeled free to use by their publishers/creators.
Creative Commons License
Creative commons license allows creators to make modifications to an existing sound effect or track to develop a different version of it. This is the type of music that is primarily used for sampling and remixing.
In the majority of cases, DJs and producers use creative commons licensed tracks. However, these tracks can also be useful for YouTube creators after modifications.
Royalty Free License
Users can get a royalty-free license by making a one-time payment and acquiring the musical piece's free-to-use rights for the rest of their lives.
This implies that once a user has purchased a track's royalty-free license, they are free to use it and can not be held responsible for copyright concerns.
This is the type of music that most creators prefer using in their YouTube videos. Also, this is the most suitable license for such content.
7 Reliable Websites to Find Royalty Free Sound Effects (Download and Use in YouTube Videos)
1.Free SFX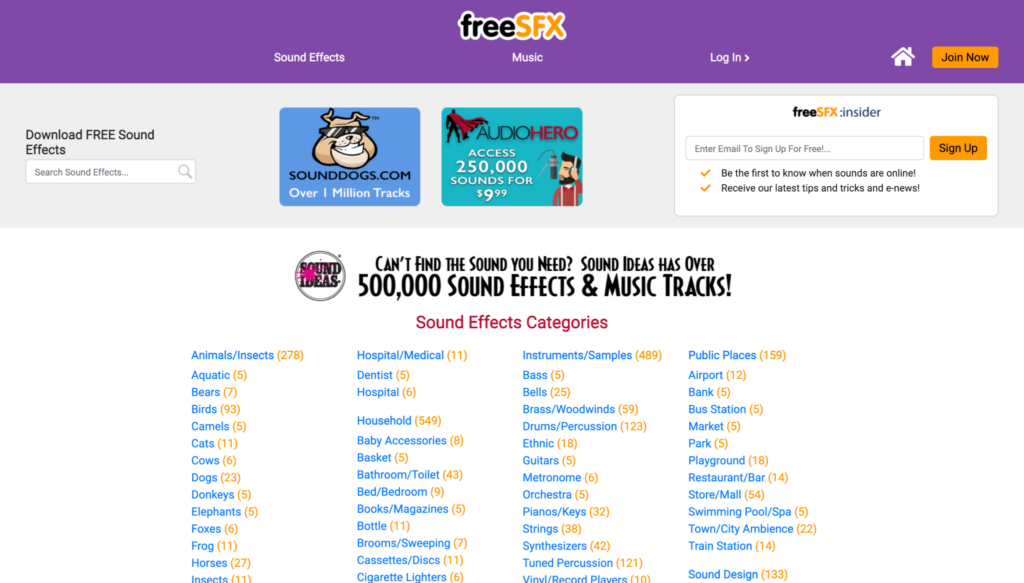 Free SFX is one of the enormous online libraries of royalty-free sounds suitable for all types of videos. Sound effects on this website are split into 25 categories and several further subcategories. Also, the UI of this website is super simple. All these factors make navigation easier.
The website offers HD-quality YouTube sound effects and download packs. To make this happen, Free SFX collaborates with top freelance composers, along with sound designers and large record labels.
2. Beatoven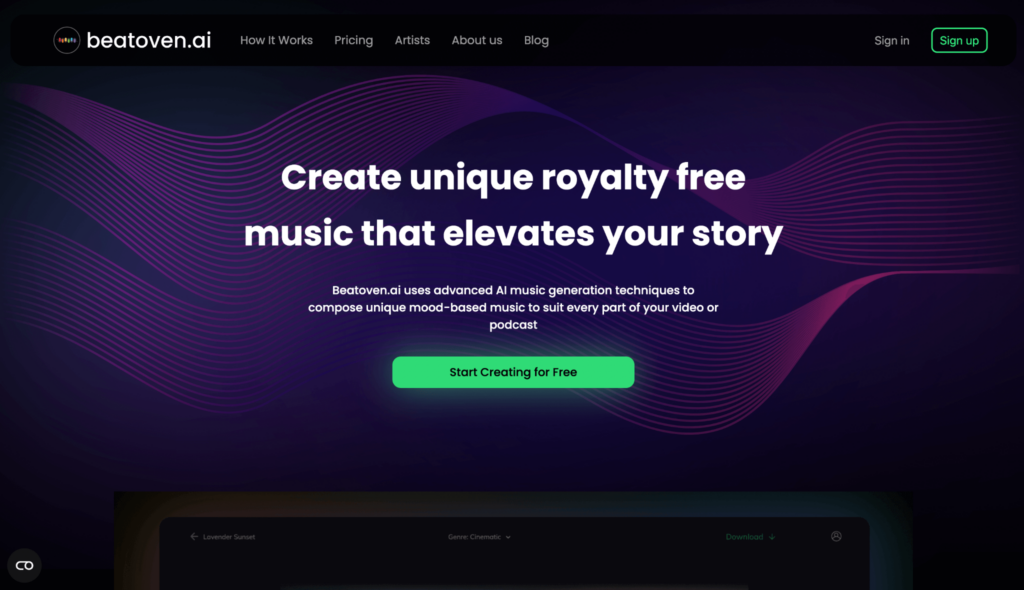 Are you tired of looking for the right sound effects for YouTube videos because you know how it should sound but can't find it? Try Beatoven.
It's an AI-based tool that allows users to create music suited for scenic and creative purposes in a few clicks. Depending on the type of free sound effects you are looking for, you can automatically create a track in less than five minutes.
And the best part – if some elements of the track don't fit your purpose, you can change those elements as per your taste and need.
YouTube creators looking for free to download background sound effects or background tracks for scene enhancements can visit Beatoven.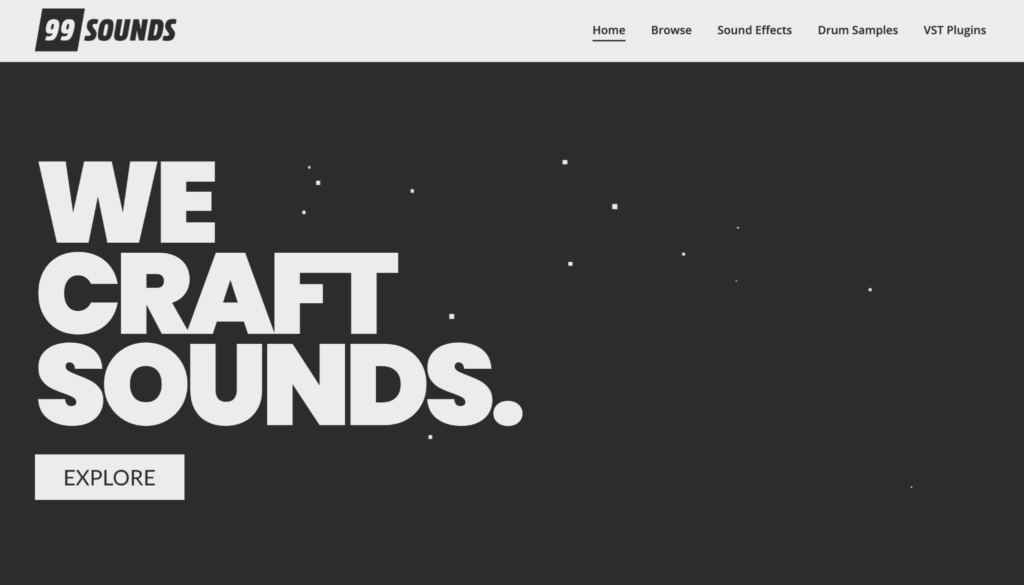 Another great online library of free sound effects for youtube is 99sounds. The music present on this website is hand-picked from numerous sound designers.
Whether you are looking for ambient sound effects for experimentation with your YouTube content or chasing car sounds to add to your video, 99sounds will have it all for you.
99sounds also partners with professional music producers for continuously expanding its library. This website offers copyright-free sound effects that are 100% royalty-free.
3. Zapsplat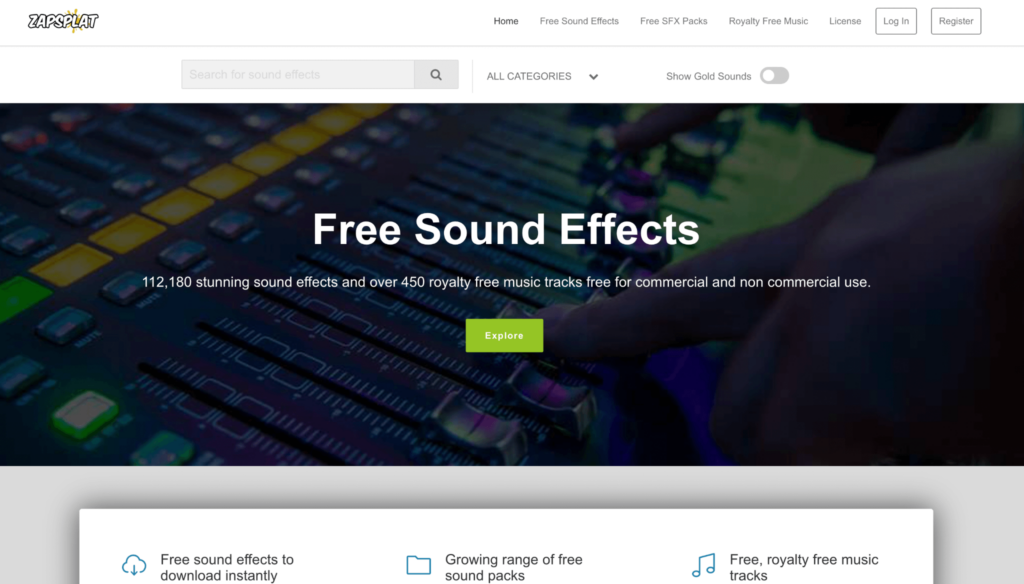 Zapslpat's huge library allows users to download from an ever-growing list of 29000 music tracks and copyright-free sound effects for youtube. Speaking of quality, Zapsplat ensures HD quality by using only professional microphones and recorders to record its tracks. Hence, all the tracks on Zapsplat can be good for all kinds of YouTube videos.
Apart from that, if you can't find the sound you are looking for, you can post your specific request, and they will customize the sound effect to your needs.
To ensure variety, Zapsplat uploads at least 100 new sounds every week.
4. Partners in Rhyme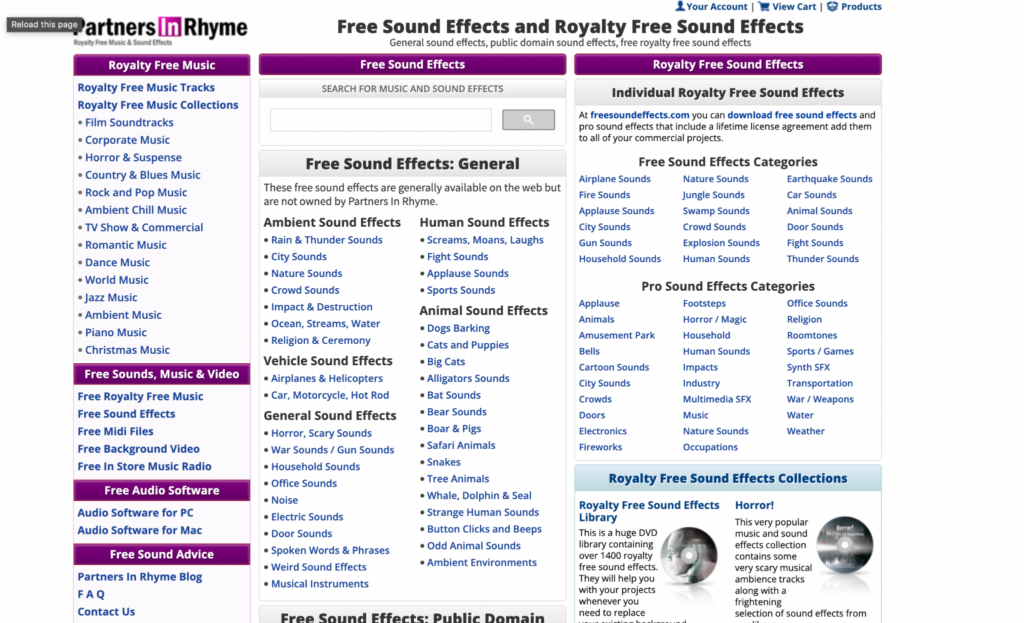 Are you looking for sound effects for your funny vines, shorts, or reels? Partners in Rhyme can be the place for you.
This website has thousands of royalty-free music tracks and sound effects for YouTube videos. In fact, for a fun game show or Q&A video, Beatoven and Partners in Rhyme may have some of the best free sound effects.
Partners in Rhyme employs freelance music producers and supports amateur musicians, filmmakers, multimedia professionals, and students.
5. AudioJungle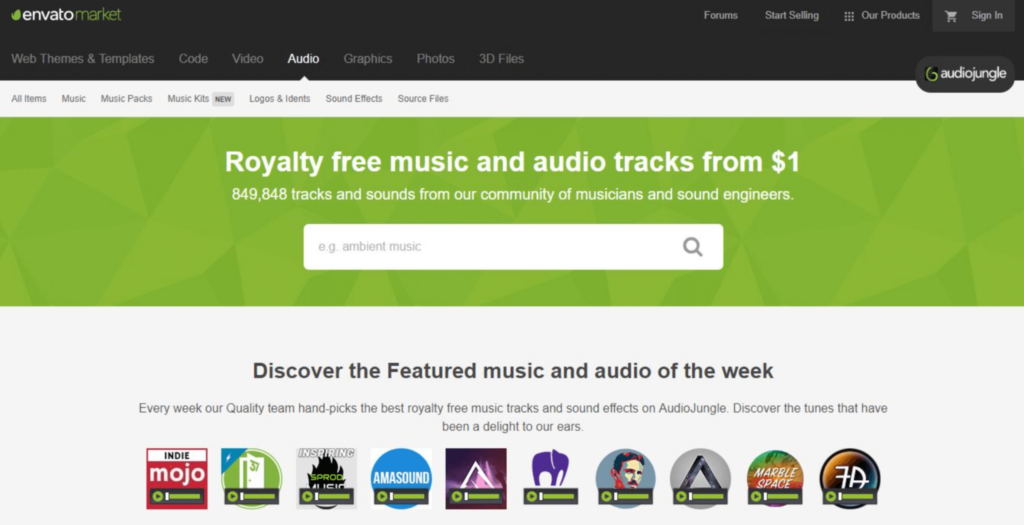 AudioJungle's diverse and vast library with over 900,000 tracks and sound effects makes it a great option for creators across all domains. Whether you are looking to make an explainer video, a podcast, or a funny sketch, AudioJungle's library will give you options.
Also, the starting price for purchasing the membership is $1, which is great for the benefits.
AudioJungle has a huge contributor base, with nearly 35,000 artists creating different types of music tracks, sound effects, and other types of content suited for all kinds of projects.
6. FindSounds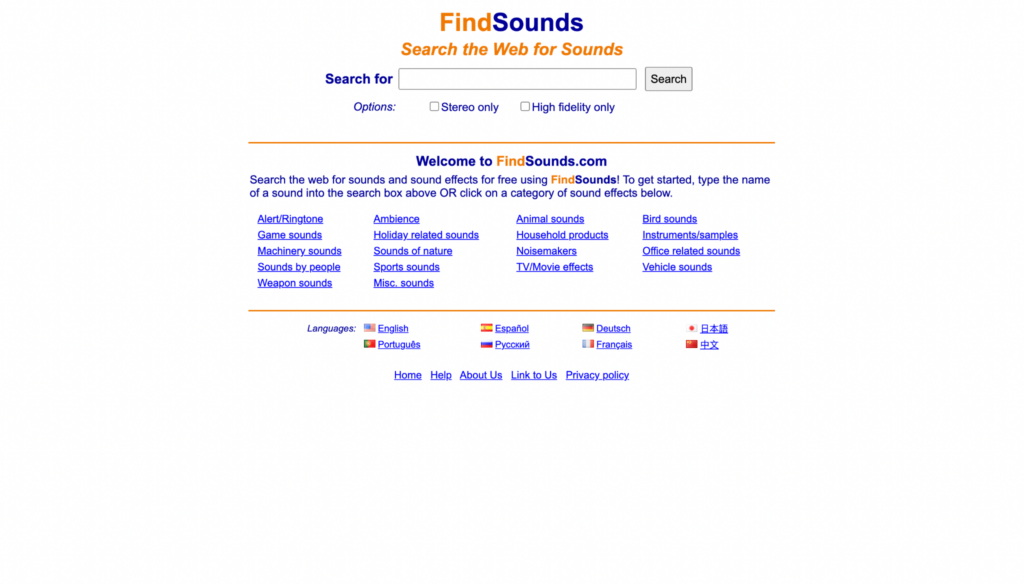 FindSounds is a search engine that helps you find copyright-free sound effects and music tracks across the web. So, FindSounds does not have its directory; rather, it scans through all the popular music directories to help you find the right sound.
To get started, users can either select their preferred categories or type and search for the type or name of the sound effect they are looking for.
Final Words
Royalty-free music enables YouTube creators to make their content more expressive, immersive, and interactive. In this blog, we shared a brief list of royalty-free music websites that can leave YouTubers spoilt for choice. Hopefully, this was helpful.