Nowadays, it's difficult to imagine a movie without a killer background score. There is a lot that goes into generating and syncing cinema music and film. Film music serves as a bridge between a scene in a film and the lines that assist the spectator grasp the atmosphere and expressions portrayed in the film. The cinema music describes the protagonist, creates a mood appropriate for the scenario, provides continuity between two scenes, adds dramatization, moves any character's activity ahead, acts as a filler between scene changes, and so on.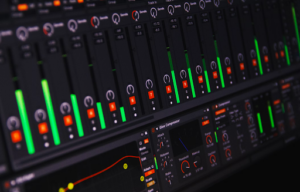 Here are 5 movie scores that added a new dimension to the film music ecosystem :
1 – Black Panther
Kendrick Lamar's production on the Black Panther soundtrack was a step in the right direction. Lamar is not just a lyricist, not also a soundtrack curator, as proven by his work on Black Panther. On February 9th, 2018, the soundtrack, officially named Black Panther: The Album, was released. Only a few tracks from "the album" appear in the film. Lamar worked with composer Ludwig Göransson to incorporate the audio as perfectly as possible with the orchestral composition.
Kendrick and company provide 50 minutes of big-time team-ups and crossovers across three continents: rap, R&B, gqom, Afro-soul, and pop from South Africa to California, London, Texas, and Ethiopia through Toronto. The project represents a sampling of the film's larger concept of African greatness.
2 – Drive
For years, the music to Drive was known for its numerous "indie anthems." Many of the songs used on the Drive soundtrack have already surpassed "indie" status – the song seen above, Nightcall by Kavinsky, has over 200 million views on YouTube! Fans of electronic music will like the soundtrack to Drive, which features tracks by Cliff Martinez, College, The Chromatics, and others.
The music in the film grows rough and complicated as Drive progresses. With its rushing rhythms and furious lyrical tension, 'Kick Your Teeth' gives the soundtrack a fresh yet sinister vitality. 'Where's The Deluxe Versionceaseless's synthesiser layers build up, only to erupt in a swirl of distortion and feedback in See You In Four. 'On the Beach' is also one of the most experimental compositions in Drive, with industrial qualities reminiscent of futurist music.
3 – 8 Mile
The soundtrack to 8 Mile does not just sound similar to other Eminem albums, but also has extra characteristics. Tracks like "8 Miles and Runnin',"Wanksta", and "Lose Yourself" decorated a film that won an Academy Award for its music. The film's cultural settings, like Eminem's acting performance, are pumped up with energy to cushion the well-known plot.
This soundtrack album included everything a devoted rap fan could desire in hip hop. With compelling wordplay, hardship stories, and rap battles, it thrived on fruitful artist partnerships.
4 – The Lion King
The Lion King, as seen and heard on stage, is one of Disney's biggest theatrical achievements. Musically, it contains most of Elton John's and Tim Rice's songs, as well as parts of Hans Zimmer's soundtrack and music from the sequel album created by Zimmer, Lebo M, Mark Mancina, and Jay Rifkin – including the song 'He Lives In You,' which also makes a full circle and appears in the new film.
The Lion King's trademark sound inspired a number of subsequent Disney tracks. In scoring The Lion King, Hans Zimmer used his arsenal of full orchestra instruments. "I Just Can't Wait To Be King," the album's second track, is a cheerful tune with basic flutes and percussion. "Be Prepared" is the darkest of the songs, malevolent and threatening at its core, heralding Scar's desires to overthrow Mufasa's reign with the hyenas.